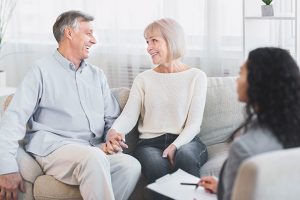 Marriage counseling, also called couples therapy, is a type of psychotherapy. Marriage counseling helps couples of all types recognize and resolve conflicts and improve their relationships. Through marriage counseling each partner is encouraged to examine key issues related to personality, perception, values and history.  This allows each partner to make thoughtful decisions about the relationship including decisions about what changes are needed (in the relationship and in the behavior of each partner) for both to feel satisfied with the relationship.
Couples therapy can be short term. You may need only a few sessions to help you weather a crisis. Or you may need couples therapy for several months, particularly if your relationship has greatly deteriorated. As with individual psychotherapy, you typically see a marriage counselor or therapist once a week.  Sometimes the process is very similar to individual psychotherapy, sometimes it is more like mediation, and sometimes it is educational. The combination of these three components is what makes it effective.
Not all therapists have received formal training in marriage counseling.  Marriage counseling is not simply working with two individuals and should not be approached as such.  It is important for you to know that our counselors received their training in a Family Psychology program wherein they learned to work with individuals, families, children and adolescents.  It is also important for you to know that we work under the assumption that, if you return for counseling after the initial consultation, we assume that the agenda is to save the relationship and will work with you toward that end.